All Cabins Are Smoke Free
All Cabins have fully equipped kitchens including stove, refrigerator, microwave, coffee pot & filters, toaster, pots and pans, dishes, silverware, cooking utensils, and dish soap. All linens are provided including bath and kitchen towels and all bedding. Note that linens are not exchanged on a daily basis. All cabins have Weber kettle charcoal grills and picnic tables as well as lawn chairs. Cable TV with remote and WiFi at each cabin. All cabins have heat and air-conditioning. Rollaway beds and pack-n-plays are available for $20.00.  Check-in is at 3pm and check-out is at 10am.  For holiday weekends and for the month of July, we have a minimum three night stay.  All other dates are two night minimum stays.
Each additional person over 4 years of age : $15/day or $75/week. Pets welcome (except Cabin 10) at $75 per week (*with a limit of 2 per cabin @ $125 week). We accept Visa, Mastercard, and Discover. Payments made by credit/debit card will be charged a 3% processing fee. Pricing does not include taxes.
Cabin #1
Studio Cabin
Rate: 1-2 People
2 Night: $190
3 Night: $265
4 Night: $335
5 Night: $420
Weekly: $490
Deposit: $100
1 Bath
1 Double Bed
Sleeps 1-2 People
Covered Porch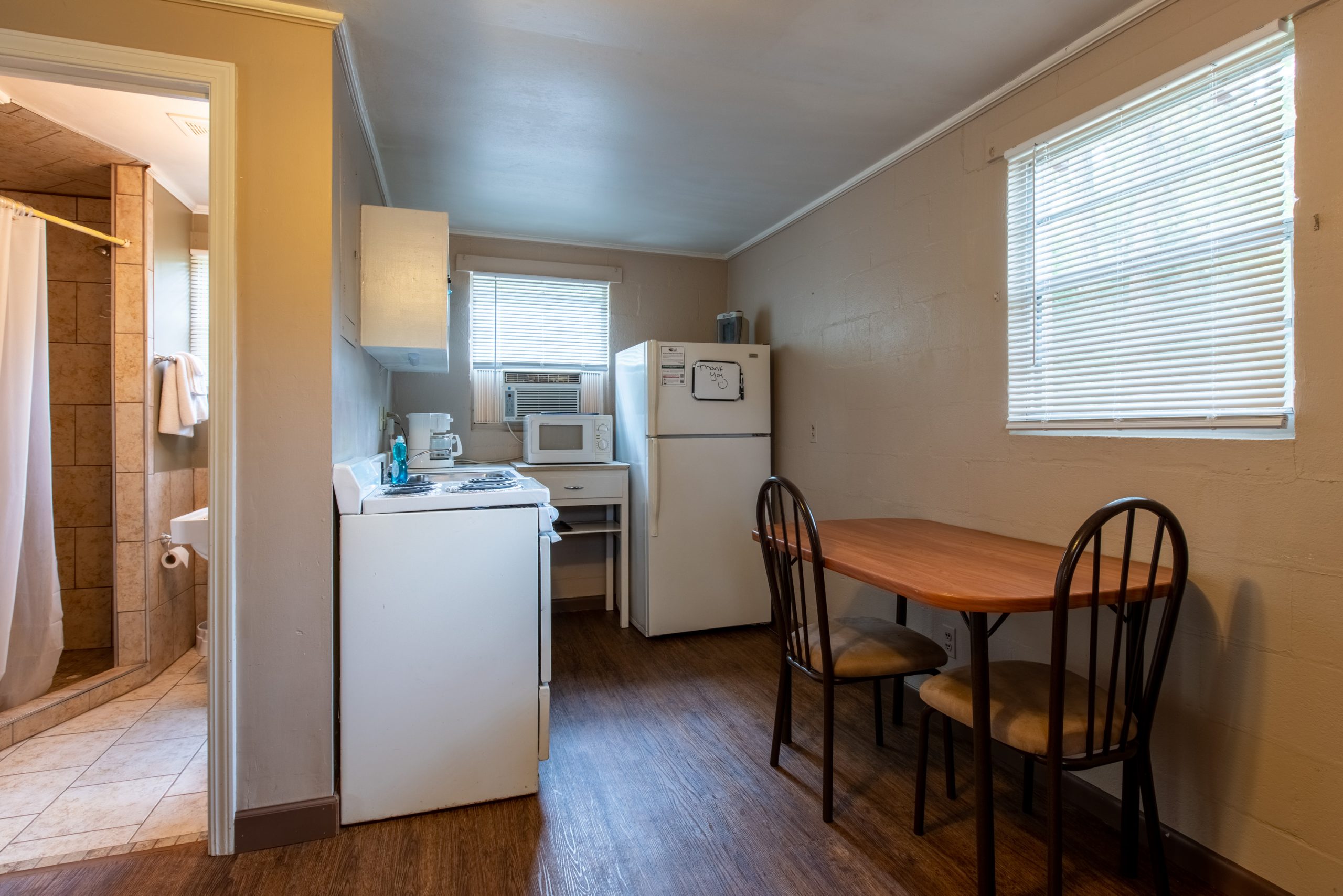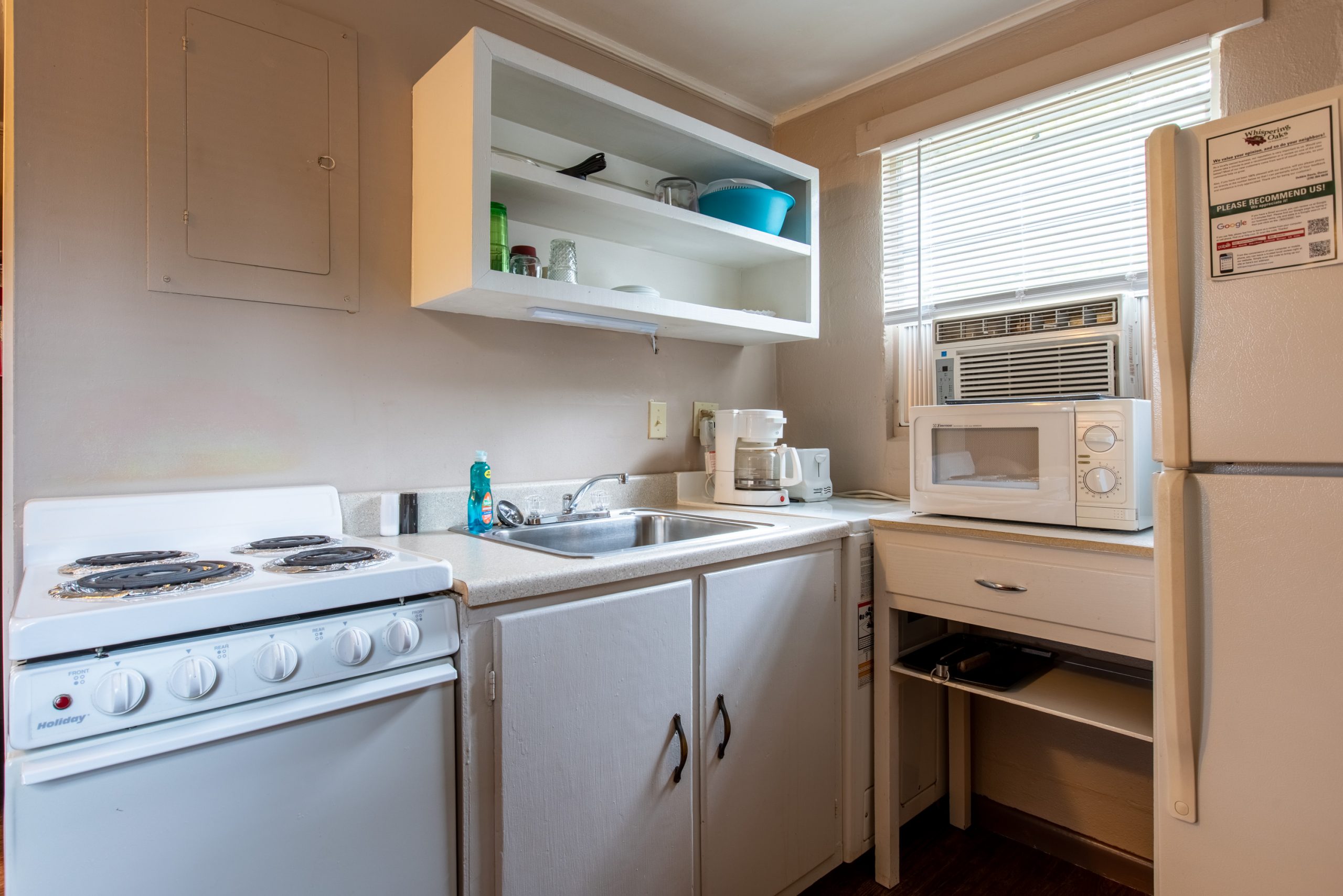 Cabin #2
Duplex Lakeview Studio Cabin
Rate: 1-2 People
2 Night: $235
3 Night: $330
4 Night: $435
5 Night: $520
Weekly: $595
Deposit: $100
1 Bath
2 Double Beds
Sleeps 1-4 People
Covered Porch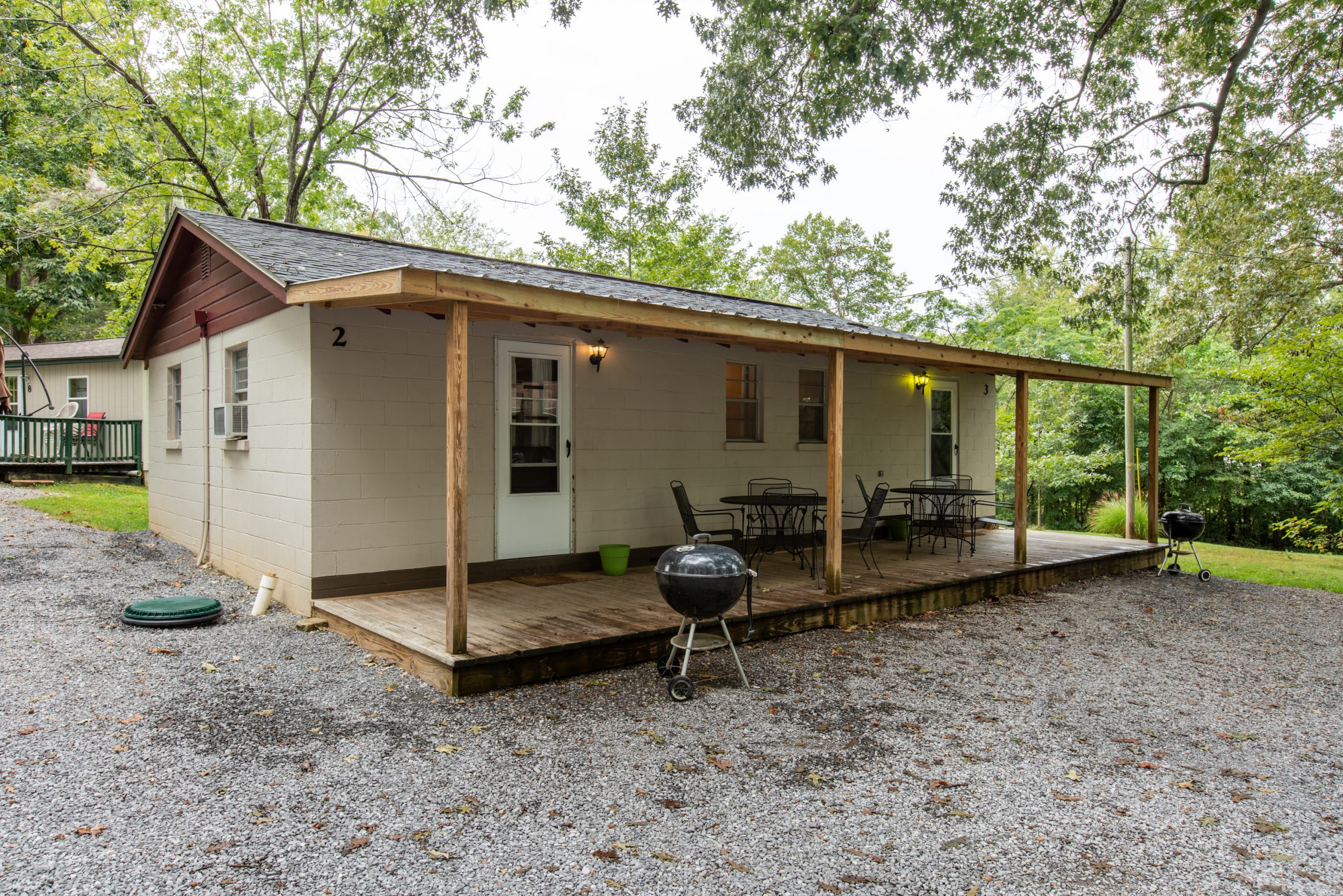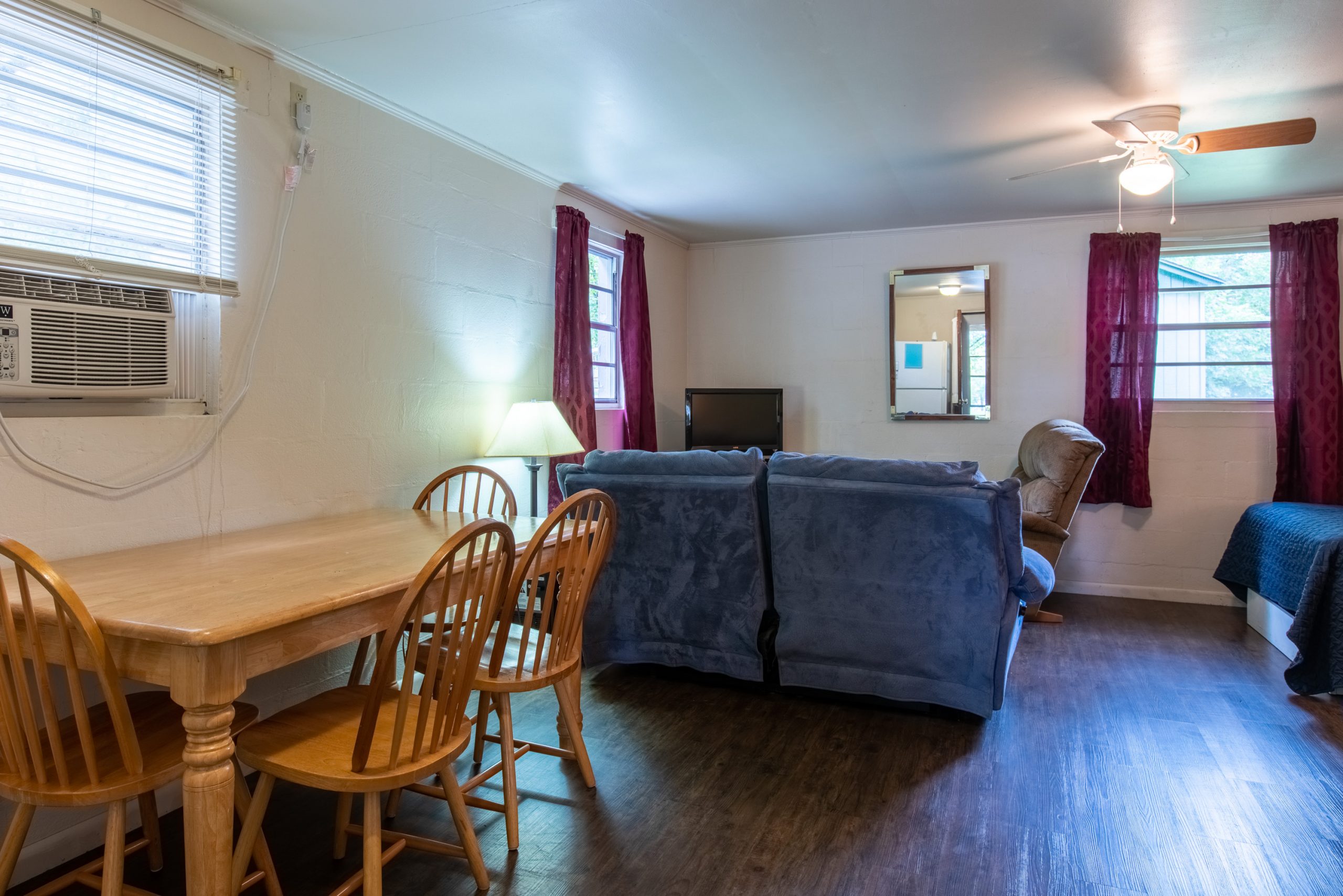 Cabin #3
Duplex Lakeview Studio Cabin
Rate: 1-2 People
2 Night: $235
3 Night: $330
4 Night: $435
5 Night: $520
Weekly: $595
Deposit: $100
1 Bath
1 Queen Bed
Sleeps 1-2 People
Covered Porch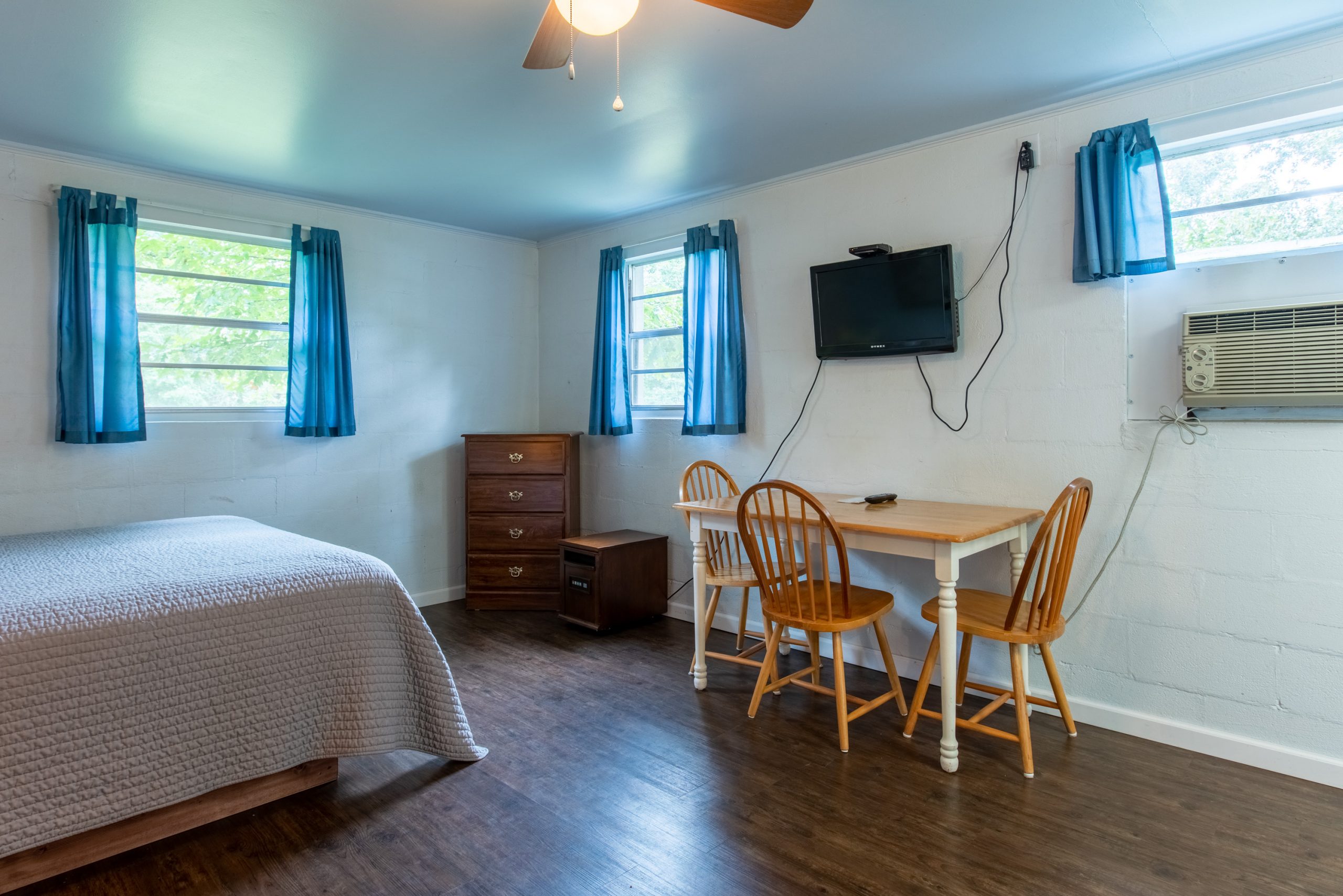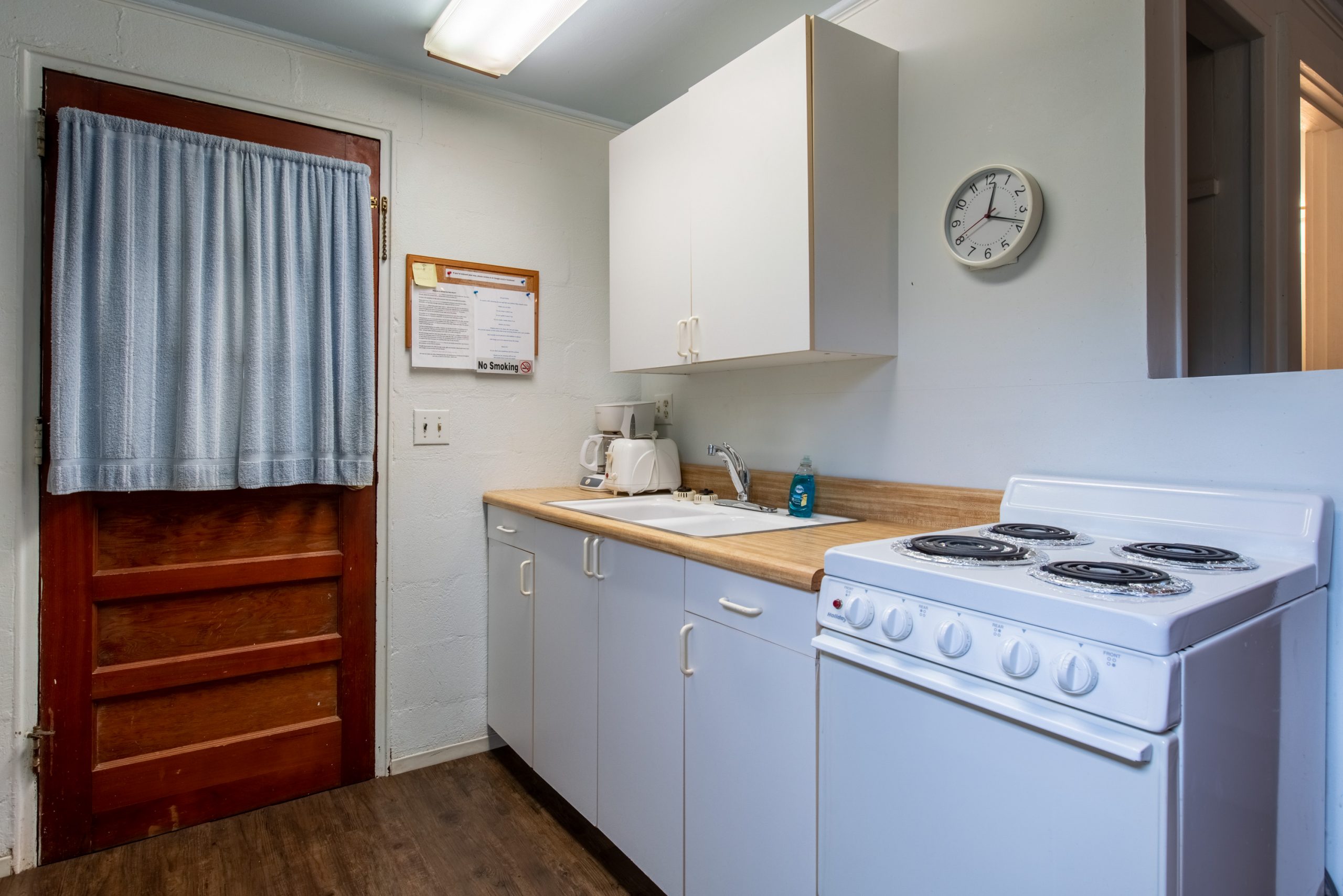 Cabin #4
One Bedroom Cabin
Rate: 1-4 People
2 Night: $315
3 Night: $425
4 Night: $560
5 Night: $685
Weekly: $790
Deposit: $100
1 Bath
1 Queen Bed & 1 Double Bed
Sleeps 1-4 People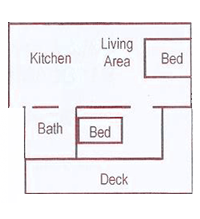 Cabin #5
Two Bedroom Lakefront Cabin
Rate: 1-5 People
2 Night: $465
3 Night: $600
4 Night: $770
5 Night: $925
Weekly: $1050
Deposit: $200
1 Bath
4 Queen Beds
Central Heat and Air
Sleeps 1-8 People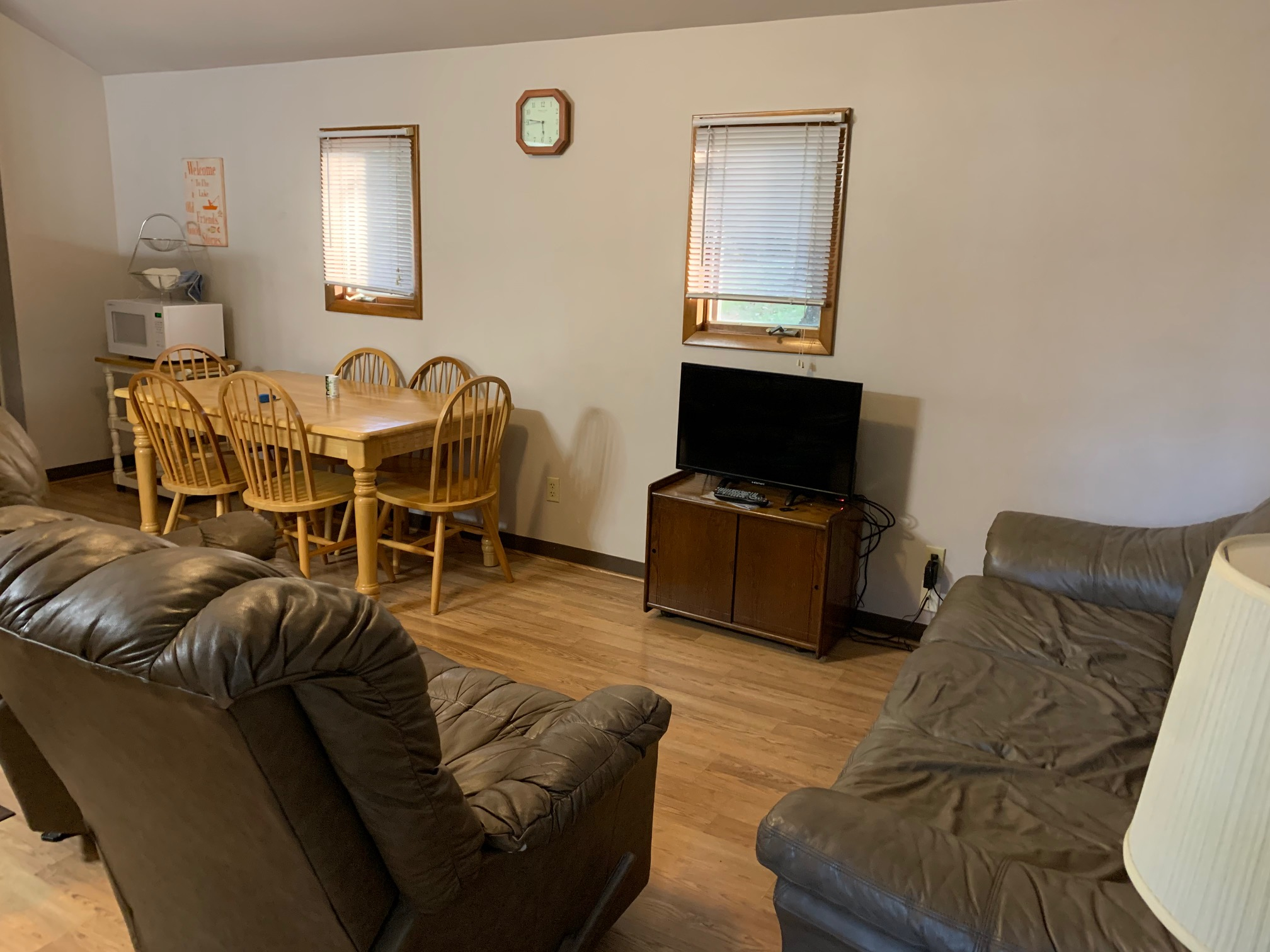 Cabin #6
Studio Cabin
Rate: 1-2 People
2 Night: $235
3 Night: $330
4 Night: $435
5 Night: $520
Weekly: $595
Deposit: $100
1 Bath
2 Double Beds
Covered Deck
Sleeps 1-4 People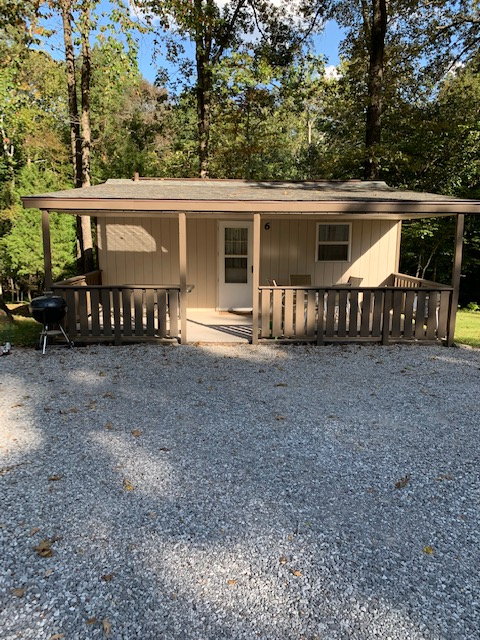 Cabin #7
Three Bedroom Cabin
Rate: 1-5 People
2 Night: $425
3 Night: $550
4 Night: $710
5 Night: $860
Weekly: $1000
Deposit: $200
1 Bath
4 Double Beds
Covered Porch
Sleeps 1-8 People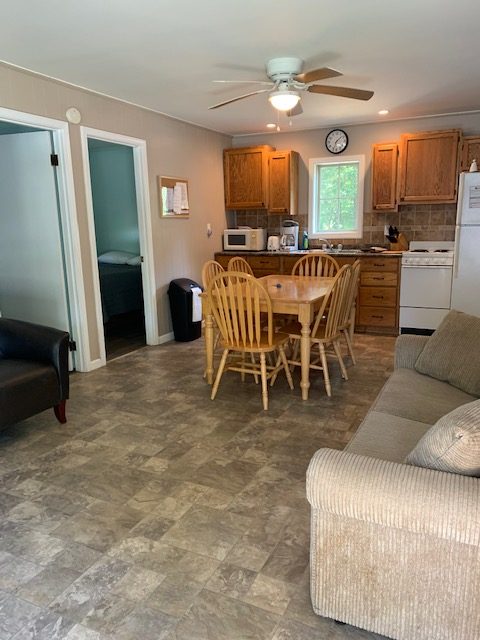 Cabin #8
Two Bedroom Cabin
Rate: 1-5 People
2 Night: $425
3 Night: $550
4 Night: $710
5 Night: $860
Weekly: $1000
Deposit: $200
1 Bath
4 Double Beds
Central Heat/Air
Sleeps 1-8 People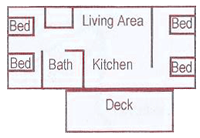 Cabin #9
Two Bedroom Cabin
Rate: 1-4 People
2 Night: $370
3 Night: $485
4 Night: $650
5 Night: $795
Weekly: $900
Deposit: $200
1 Bath
2 Queen Beds
Queen Sofa Bed
Central Heat/Air
Covered Deck
Sleeps 1-6 People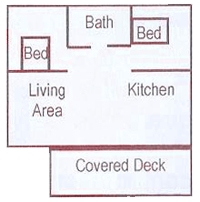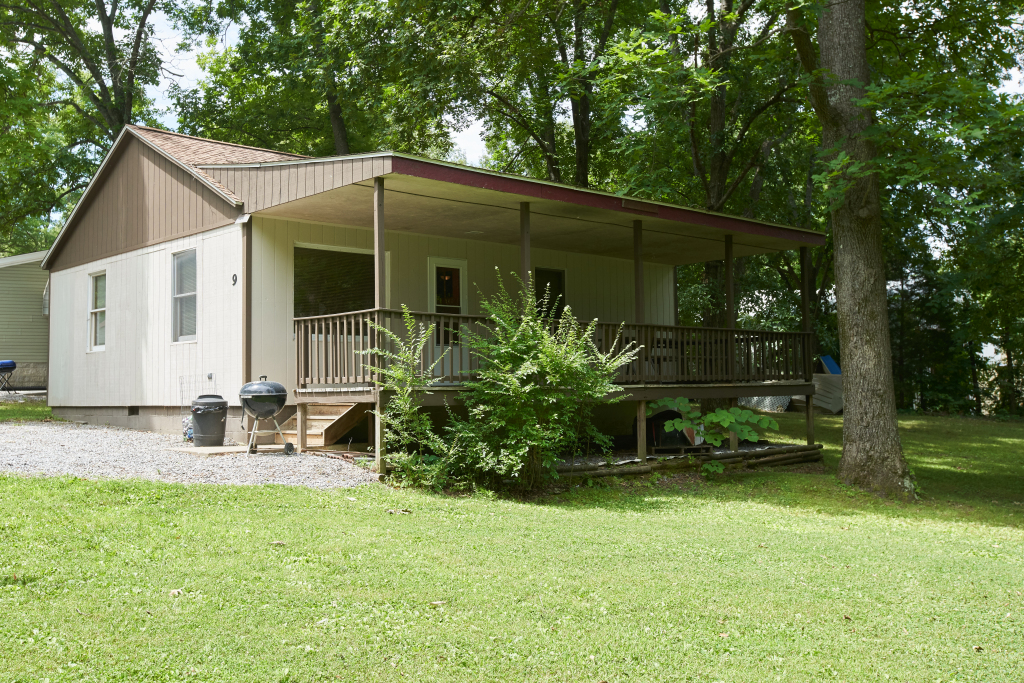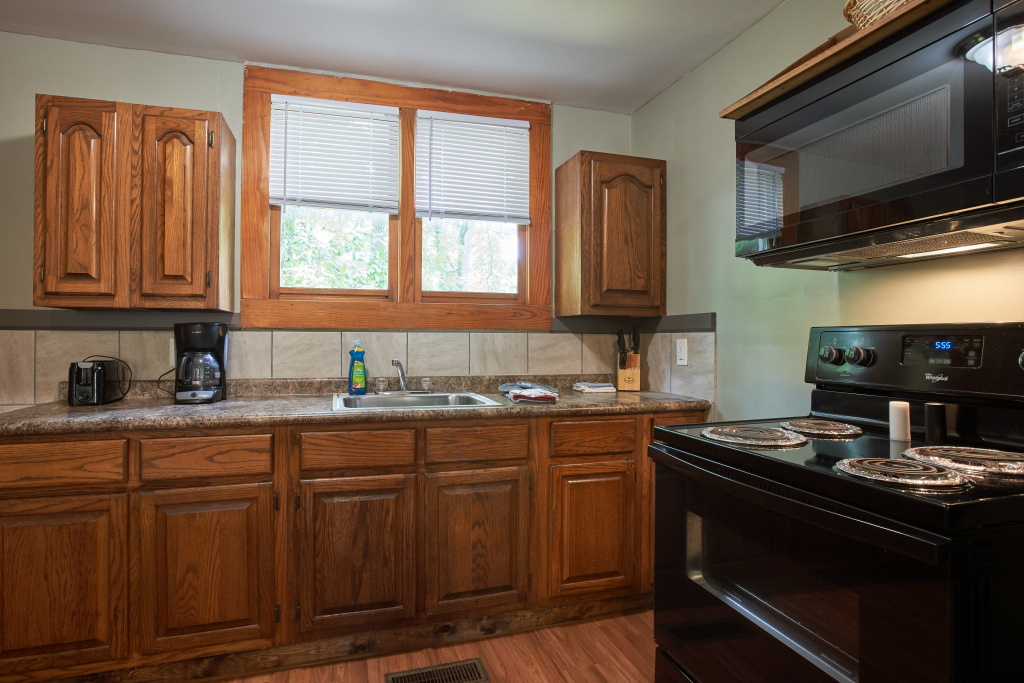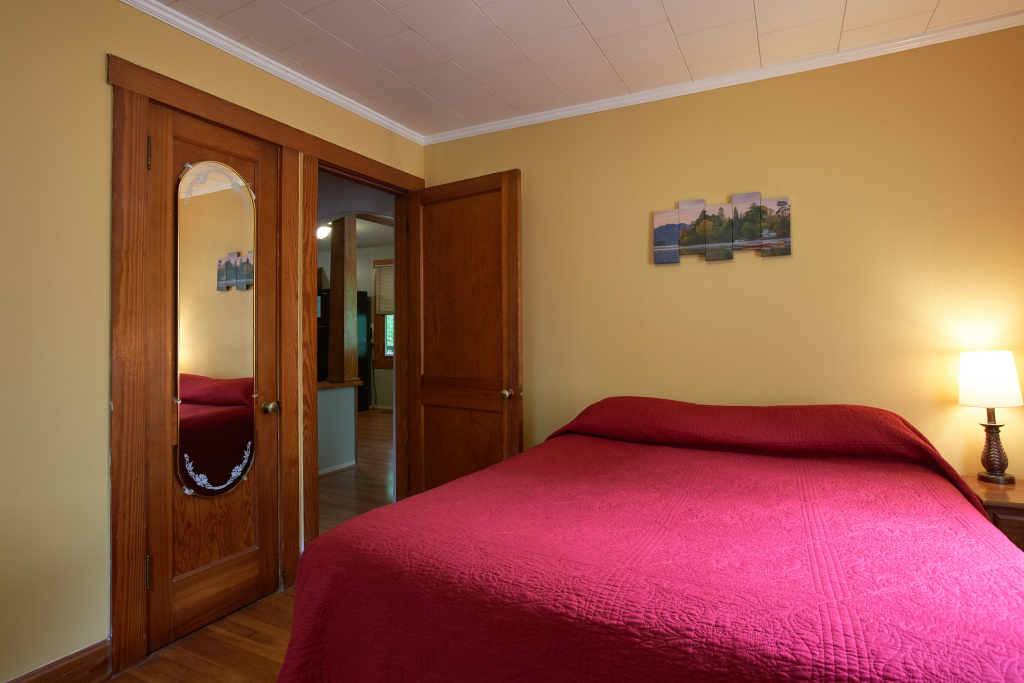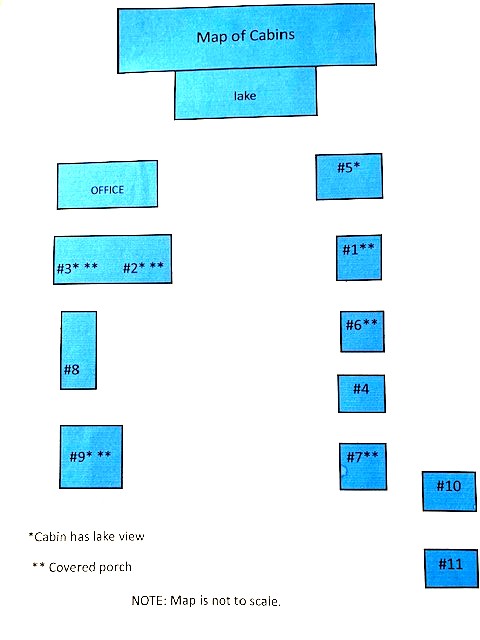 Whispering Oaks Checklist
Bring
Lanterns
Sunscreen
Bug Spray
Bug Candles
Beach Towels
Fishing Gear
Coal starter/starters
Hand soap
Napkins/Paper plates
Paper Towels
Ignitor
Pet Stuff
Beds/Rugs
Life Jackets
Pet Gate
Food
Medicine
Beverages
Adult Beverages
Water/Soda
Coffee
Milk
Cream/Sugar
Food to Buy/Bring
 Breakfast items
Eggs
Cereal
Breakfast meats
English Muffins
Lunch items
Bread/Buns
Lunch meat
Cheese
Dinner Items
Burgers
Pork Chops
Steak
Sausage
Chicken
Hot Dogs
Condiments
Mayo
Mustard/Ketchup
Spices
Butter
Sides
Vegetables
Potatoes
Onions
Corn
Lettuce
Snacks
Supplied by Resort
Salt/Pepper
Grill tools
Toilet paper
Garbage liners
Utensils/dishes
Pots/Pans/Strainer
Toaster
Coffee Pot/Filters
Dish soap
Bed Linens/Pillows
Bath/Kitchen Towels
Weber Kettle Grill
Can Be Bought at Resort
Coal/Lighter Fluid
Ice
Fishing license
Bait